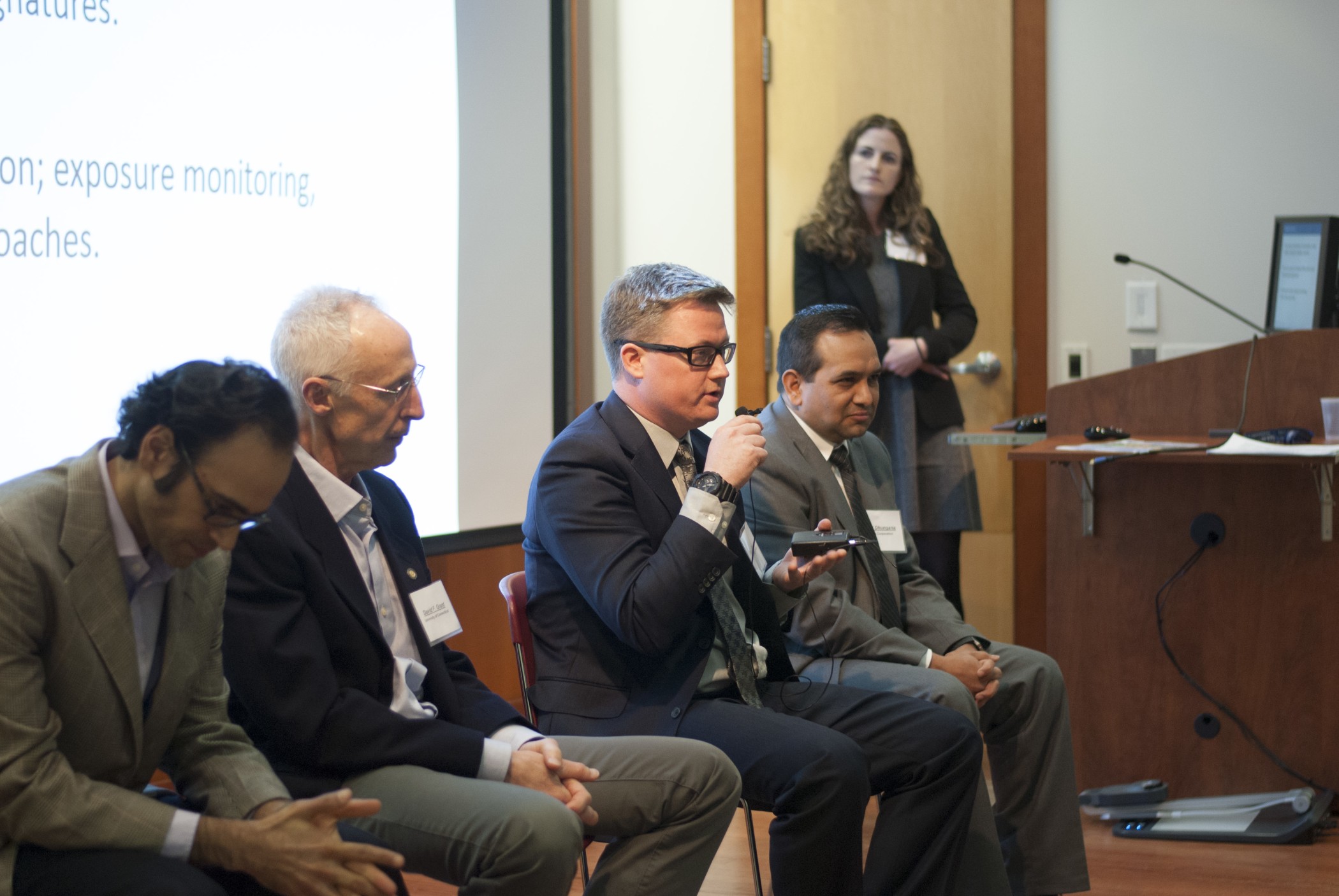 All of us live in a "soup" of environmental exposures—chemical substances as ubiquitous as smoke, radon gas, processed foods, lead and the treatments found in clothing and furniture, as well as exposures from the microbiome and societal stressors.
Scientists used to try and analyze the effect of these and many other elements on human health one at a time, but this approach is time consuming, inefficient, expensive and limited in capacity. Nor does it take into account how co-exposures, or mixtures, jointly impact human health.
Enter the era of the "exposome."
First coined in 2005 and still developing, the scientific approach provides a comprehensive view of the totality of an individual's exposures from pre-conception to death along with important insights into their effects on human health. This wider perspective demands we break down traditional scientific silos in research and treatment and foster innovation, noted Yale School of Public Health Dean Sten Vermund in his welcoming remarks Wednesday (April 19) to more than 100 people gathered for a school-sponsored symposium on the exposome.
Leading scientists from around the United States and England discussed the challenges associated with exposome research as well as its potential to transform environmental epidemiology. The "Lifetime Exposures and Human Health: The Exposome," symposium was organized by the school's Department of Environmental Health Sciences (EHS).
"The Yale School of Public Health is proud to host this important conference and bring these incredible scientists together. The exposome is crucial to the future of public health research and health outcomes and we are committed to playing an important role in this work," said Vasilis Vasiliou, professor and EHS chair.
Gwen Collman, director of the Division of Extramural Research and Training at the National Institute of Environmental Health Sciences (NIEHS), opened the symposium with a keynote speech in Winslow Auditorium. "The exposome, means everything but genetics" she said, and we have many new sources for measuring its biological response, including sensors, personal monitors and mass spectrometry.
NIEHS Director Linda Birnbaum addressed the gathering in a prerecorded video and emphasized her agency's commitment to a more holistic approach to human health, one that includes studying all environmental exposures including chemical mixtures, environment, diet and lifestyle.
A crucial scientific tool supporting exposome research is mass spectrometry. The technique has become so important for exposome analysis that the NIEHS has created a network of laboratories to increase the accessibility of this and other exposure assessment tools to all researchers, said Collman. She also emphasized the value of exposome research in detecting exposures of emerging concern, such as those associated with an environmental disaster.
Another speaker, Dean Jones, professor of medicine at Emory University, recounted how he entered the field of metabolomics, which studies the molecular chemical fingerprints found in the body, after wondering if human blood could be measured with the same accuracy as crude oil?
With just 5 percent to 15 percent of diseases attributable solely to genetics, techniques have developed rapidly to examine the remaining exposures, all of which are environmental. Today, a blood scan can map up to 800,000 features per sample in his laboratory. With the growing availability of chemical libraries to identify what those features are, his lab is able to offer scans for 10,000 chemicals for $100 or just 1 cent per chemical. The potential of the exposome technique is vast, said Jones, who hopes that the entire human exposome will be sequenced, just like human genome.
But statistical analysis and data management for the exposome need to catch up to the field of genomics, said speaker Chirag Patel. Patel, an assistant professor at the Department of Biomedical Informatics at Harvard Medical School, who envisions building a search engine for environmental exposures to diseases and the biochemical characteristics associated with them. Drawing inspiration from a body of over 2,400 genome-wide association studies, he sees a future when environment-wide association studies will incorporate influences on health throughout one's lifetime. Data sources will need to be brought together and include not just mass spectrometry data, but data from electronic health records, traditional epidemiologic surveys and myriad other sources. One challenge is managing big data "without creating big bias," he added.
Some of the challenges in exposome analysis were raised by Toby Athersuch's group at Imperial College London, particularly how to control for variability in biological samples. In a study of the early life exposome he compared urine samples taken from infants in the morning and nighttime using nuclear magnetic resonance (NMR) spectroscopy. Their findings suggest that pooling the collected samples provide the most consistent representation of exposures over time for each individual. As the field develops, Athersuch hopes that some common standards and protocols can be agreed upon so that community data pools can be made available for open access research.
David Grant, associate professor at the University of Connecticut, addressed the challenges of identifying chemical compounds revealed by exposome research. The standard databases of compounds known to exist for humans include only about 25 percent of the features that are seen in mass spectrometry-based metabolomic analysis. Still, the numbers are huge. While the PubChem database run by the National Library of Medicine catalogs over 90 million chemical structures, it doesn't not catalog enough spectral characteristics to help identify unknown chemicals. Grant's lab is developing computation tools to predict characteristics such as exact mass, retention time and drift time that correspond to the mass of each identified metabolite to facilitate matching it to a known chemical compound.
"This symposium impacts labs, such as mine, by emphasizing the importance of metabolomics for biomonitoring. I see the exposome as being a major step forward towards identifying the unknown etiology of chronic diseases," said Caroline Johnson, co-chair of the event and an assistant professor in EHS. Johnson is using the exposome to study the relationship between genetic and environmental influences on colon cancer. She is also examining human exposure to chemicals in artificial turf and chemical exposures during pregnancy and their effects on health.
Suraj Dhungana, manager of Americas Field Market: Metabolics, Lipidomics and Translational Research at the Waters Corp., joined the speakers for a panel discussion, highlighting recent technological advancements in mass spectrometry for the analysis of the exposome. The Massachusetts-based company, which designs and manufactures scientific equipment such as mass spectrometers, supported the event.
To learn more about exposome research at the Yale School of Public Health, visit http://publichealth.yale.edu/ehs/research.
Submitted by Denise Meyer on April 24, 2017