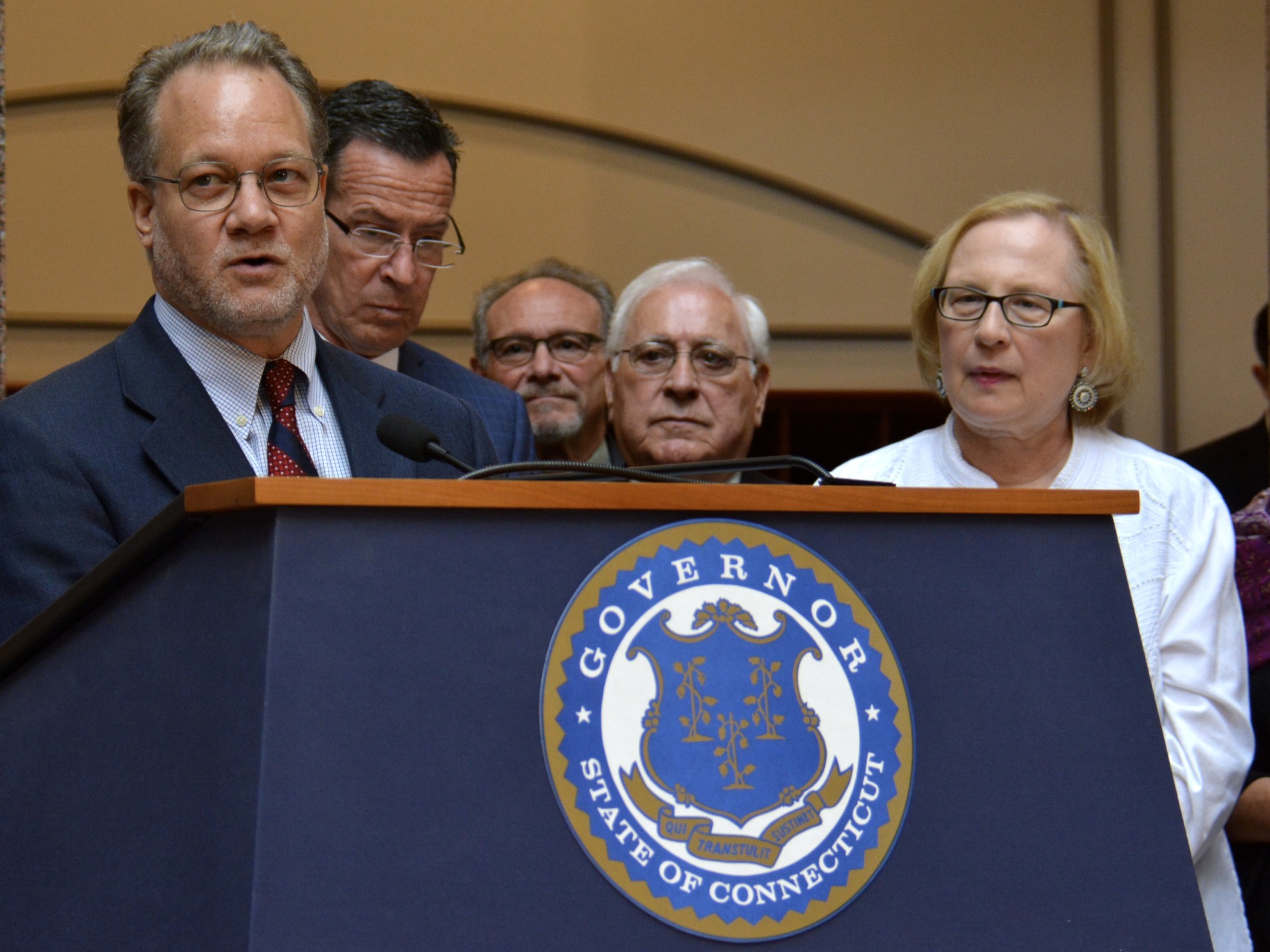 A team of experts from Yale's schools of public health and medicine are partnering with the state of Connecticut to address an opioid epidemic that claimed hundred of lives last year.
The Yale scientists will work on a strategic plan over the coming three months designed to reduce both the abuse of opioids and the number of overdoses. They will then help to implement the plan over the next three years.
The team, led by David Fiellin, M.D., includes Robert Heimer, Ph.D., Lauretta Grau, Ph.D., and Skip Barbour, Ph.D., of the School of Public Health and Gail D'Onofrio, M.D., M.S., and William Becker, M.D., of the School of Medicine.
"We look forward to working with the state and pulling together this plan in short order," Fiellin said Friday (May 27) at a press conference at the capitol where Gov. Dannel P. Malloy announced the partnership.
Connecticut continues to be hard hit by opioid problems. Although overdose deaths are resulting from both heroin and prescription opioid misuse, the recent increase in mortality appears attributable to heroin. In 2015, heroin alone was a factor in more than 400 deaths, an increase of more than 40 percent since the beginning of the decade. The drug is often mixed with other synthetic opioids, such as fentanyl, which makes it even deadlier.
Malloy noted that heroin's purity, and hence its danger, has risen steadily in recent decades and many users are unaware and unprepared for this. The drug has also become remarkably cheap, he said.
The tragedy of the state's opioid epidemic was highlighted Friday by Sue Kruczek, whose 20-year-old son overdosed in 2013. She held up a snapshot of her family, the last one taken before her son's death.
"Connecticut has been at the forefront of the fight against addiction. … Yet it is still not enough," Malloy said. "We've seen the increase in deaths go as high as 750 this past year. … It is frightening what is happening in our society. We need to have all the best tools and, frankly, the best minds around the table and that what I am so happy that Yale … is an active participant in our efforts."
Heimer said that opioid use in Connecticut is increasingly widespread, and is not just the urban plague that many imagine. The problem with this changing demographic is that the suburbs are almost entirely unprepared to deal with the problem.
Heimer and colleagues recently studied 475 people who inject drugs residing in suburban town in southwestern Connecticut. They found that the participants had a median age of 35, two thirds were men and they were overwhelmingly white. Only 30 percent were employed, mostly part-time; 90 percent had been previously arrested; and only 70 percent had received any kind of opioid substance-abuse treatment. The study Heimer conducted—SHERPA (Suburban Health, Education Research And Prevention Alliance)—found that 90 percent of participants injected heroin.
Also on Friday, Malloy signed far-reaching legislation to reduce the number of opioid pills available to people, provide additional help to users and make life-saving drugs, such as naloxone, more available.
"Our strategic plan will seek to ensure that individuals with the disease of opioid addiction who find it harder to get pharmaceutical opioids will find it easier to obtain the best evidence-based treatment for their disease," Heimer said. "New laws that further restrict access, in the absence of large increases in drug abuse prevention and treatment efforts, may make matters worse."
Submitted by Liz Pantani on June 01, 2016