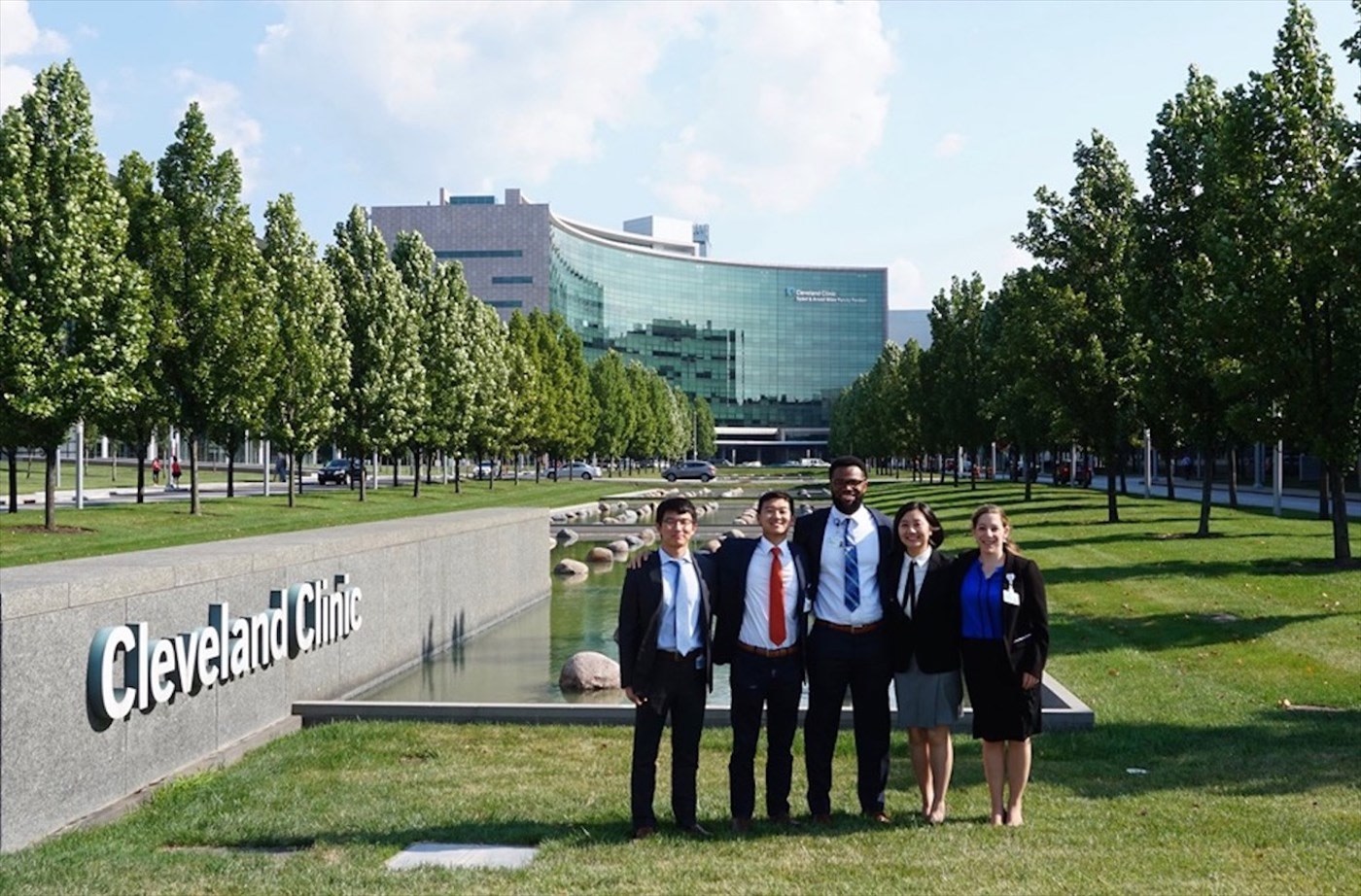 Five Yale School of Public Health students completed summer internships at the renowned Cleveland Clinic, one of the largest medical centers in the world. Internships are an integral part of the M.P.H. experience at Yale and provide students with a chance to practice what they have learned in the classroom. Each summer, students travel around the United States and to as many as 20 countries where they work for up to 12 weeks on a wide variety health challenges. While YSPH students have interned at the Cleveland Clinic before, five at once is the largest group ever.
Tal Gurevich Tal spent the summer working on a number of exciting Global Contracting projects within International Operations. Having grown up and spent part of her early career in the UK, she was able to apply both her lived and learned experiences to her work, which included conducting in-depth research on and developing preliminary relationships with organizations with which Cleveland Clinic London is eager to work.
"In addition to supporting contracting for London, I was exposed to the proactive manner in which the Cleveland Clinic approaches and manages international payer contracting, and had the opportunity to lead an enterprise-wide project in that area," Tal said. "While at the Cleveland Clinic, I was also extremely fortunate to see first-hand the aspects that keep the Clinic consistently at the cutting-edge of the healthcare industry, including outstanding physician-patient interaction, tiered huddles and its emphasis on kaizen, or continuous improvement."
Halbert Bai Halbert served as a Graduate Administrative Intern in the Neurological Institute of the Cleveland Clinic. He served as a project manager on multiple process and quality improvement projects, gained research experience in neurological surgery, and received valuable exposure to the broad scope of healthcare administration. Two projects Halbert led were especially rewarding. One resulted in the hiring of two caregivers to improve patient access to diagnostic tools for sleep disorders and the findings he presented from another will hopefully go on to reduce the administrative burden of nurses and advanced practice providers, enabling them to perform at the top of their licensure and reduce burnout across five types of caregivers involved with the care of spine, headache, and movement disorders patients.
"Spending thirteen weeks interning at the Cleveland Clinic solidified my passion for healthcare administration, especially in the areas of process and quality improvement," he said." I found it incredibly rewarding to see projects I worked on lead to improvements in the experience, quality, and outcomes of patients and caregivers."
Xiaosong (Ophelia) Gao Ophelia was an administrative intern in the Business Intelligence department. During her internship at the Clinic, she worked on medical operations projects, including exam room utilization with time filter and geospatial features, as well as predicting patient length of stay with feature modeling and time series analysis. Ophelia believes that data is the X-ray of the healthcare system, and being able to see the hospital's performance through the lens of quantitative tools has left her with a unique perspective on how to better serve not only the patients, but also caregivers throughout the Clinic.
David Baugham David's summer was spent in the Continuous Improvement Department within the Cancer Center. He was tasked with answering several questions in regards to their staffing models around holidays, their methods of scheduling chemotherapy patients, and the impact of a partnership with Uber.
"By working in the Continuous Improvement department I was able to see how my background in supply chain management could be valuable to the service and healthcare industry," he said. "My preceptor was phenomenal in this regard. Having worked a majority of his career in manufacturing and operations at Nestlé and Parker, I learned from him how lean methodology, visual management, and project management translate into world-class patient care. Most importantly, I came away from this internship with a desire to discover how lessons from other industries could inform my future work as a healthcare professional."
Submitted by Denise Meyer on August 28, 2019