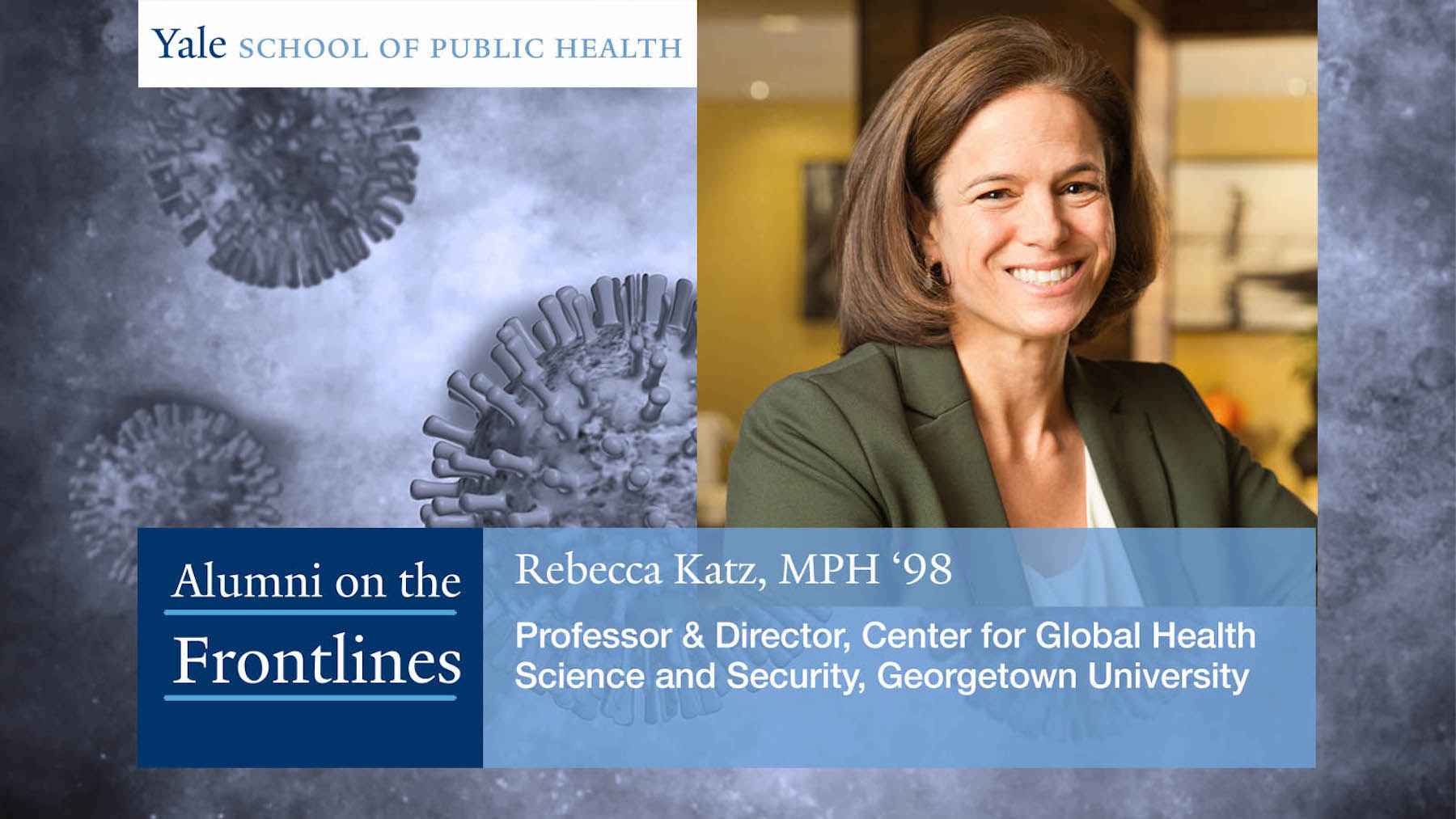 As the director of Georgetown University's Center for Global Health Science and Security (CGHSS), Professor Rebecca Katz, MPH '98, oversees a program dedicated to helping decision-makers worldwide prepare for public health emergencies like the COVID-19 pandemic.
Now that the COVID-19 pandemic is here and threatening countries around the world, Katz's knowledge, experience and leadership is in high demand. Over the past few months, she has engaged in numerous national and international media interviews in an attempt to explain the public health threat created by the pandemic. She also serves as a member of Georgetown University's COVID-19 emergency response team, helping guide the university's response to and management of the coronavirus.
Katz spends a good portion of her days advising a slew of public and private organizations about best practices in dealing with COVID-19. Those individuals and organizations include mayors, governors, international organizations, sports organizations, private industry, critical infrastructure systems, and clinicians.
She is also a member of presidential candidate Joe Biden's public health advisory committee for COVID-19 response, providing science-based, expert advice to minimize health risks for the candidate, his staff and supporters. Others on the committee include former FDA commissioner David Kessler, former Homeland Security Adviser Lisa Monaco and former U.S. Surgeon General Vivek Murthy.
Katz and her team at the CGHSS are also creating a suite of tools to help officials in urban areas, as well as those at the state, city and local level, improve their pandemic preparedness. Those resources include a rapid assessment tool to help urban areas strengthen their public health resilience and security. For local municipalities, the CGHSS, under Katz' direction, is developing a frontline guide to help officials manage the COVID-19 outbreak based on guidance from experienced public health professionals.
Katz also serves as an epidemiological advisor for Covid Act Now, a multidisciplinary team of technologists, public health experts, epidemiologists and policy leaders working to provide disease intelligence and data analysis related to the COVID-19 pandemic. The team's analytical model has been used by over 10 million people in the U.S., including the U.S. military and the White House, to assist with response planning.
"Whether we're conducting original research related to COVID-19 or advising policymakers on best science-based practices, our Center is providing support where it is needed during the current pandemic," said Katz. "It is our hope that the global health awareness, infrastructure and preparedness that we are building with our partners now will be sustained in anticipation of other emerging health threats."
Submitted by Colin Poitras on June 01, 2020