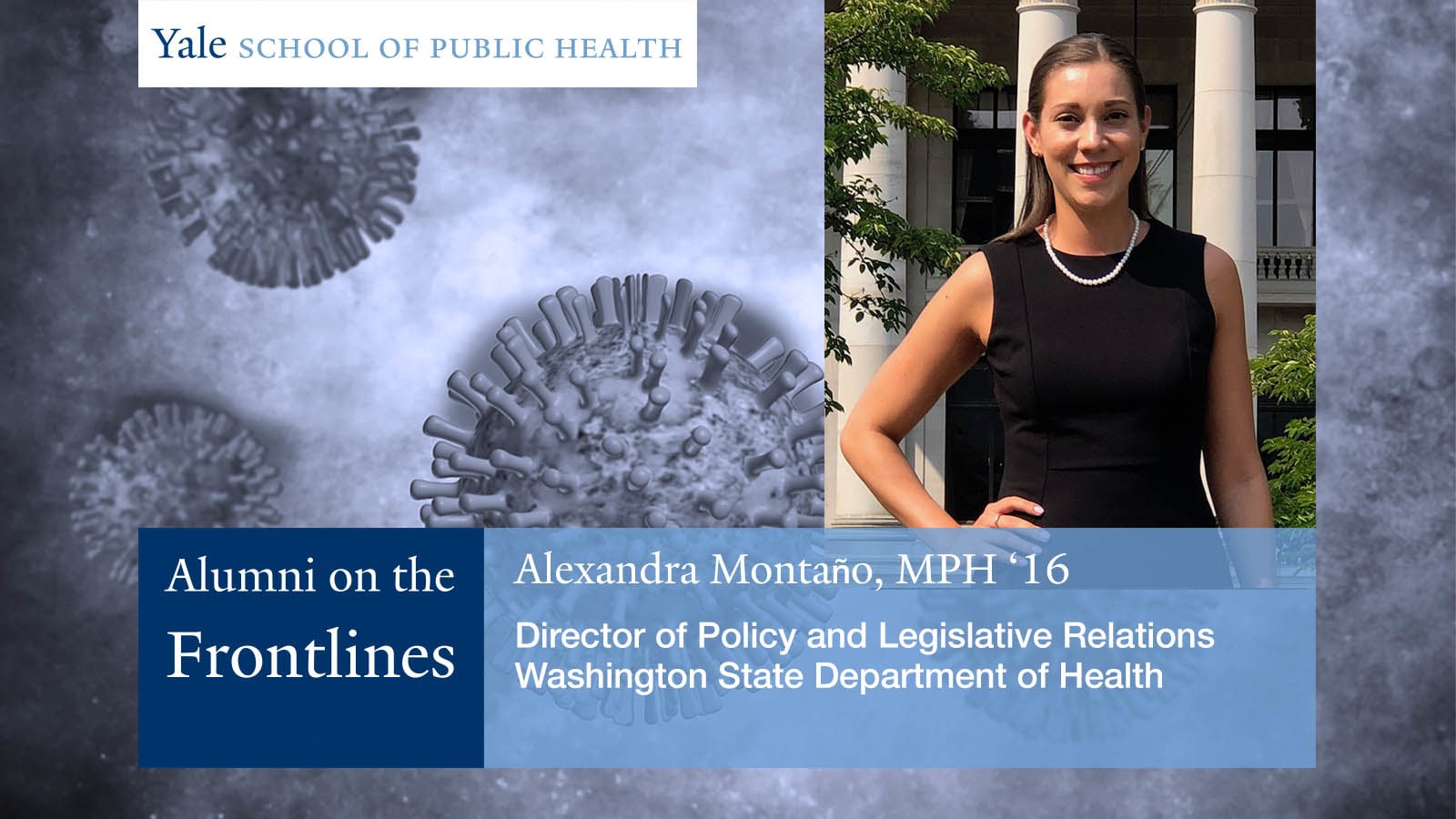 When COVID-19 first arrived on the United States mainland, Washington state was the epicenter of the initial outbreak.
As state public health officials scrambled into action to thwart the threat, Alexandra Montaño, MPH '16, was activated as a member of the Department of Health's Incident Management Team.
Montaño, who normally serves as director of policy and legislative relations for the Division of Disease Control and Health Statistics, has been working out of the State Emergency Operations Center at Camp Murray for over two months. As part of an advanced planning team, Montaño and other staff from across state government, develop plans for non-pharmaceutical interventions (NPIs), which include school closures, travel restrictions, cancellations of large gatherings, and implementing a cordon sanitaire.
"We put together a number of documents that assessed what would be required to implement each NPI at varying levels, who would be responsible for implementation, what the impacts would be, how could we mitigate impacts, and what agencies would play a role in impact mitigation," Montaño said. "These documents helped to guide discussions and decision-making for policymakers and the Governor."
Currently, the advanced planning team is providing feedback to leadership about the Governor's phased approach for reopening and looking to the future to plan for a potential second wave of COVID-19. The team is also gathering information about other states and countries that are relaxing NPIs to help inform Washington State's decision-making, both in lessons learned and potential best practices.
Montaño has taken on additional tasks during the response including writing timely talking points for leadership to share with the state's congressional delegation, drafting guidance for local health jurisdictions regarding the establishment of isolation and quarantine sites, and collaborating with the department's Community Engagement Task Force to deliver critical information to long-term care facilities, schools, and other congregate settings.
"Participating in this response has been more rewarding and challenging than I could have expected. The Department just recently passed day 100 of our COVID-19 response and as we look to the next 100 days, I have to reflect on how fortunate I am to be able to work alongside such a dedicated, smart, and creative team," said Montaño. "The days can be long and the tasks sometimes daunting, but I have never been more proud to work in public health."
In addition to her continuing work with the advanced planning team, Montaño is co-leading a rapid needs assessment initiative, similar to the CDC's Community Assessment for Public Health Emergency Response (CASPER) tool. These assessments, which assess the immediate needs of a community, its preparedness, and local public health perceptions, help public health officials direct resources to where they are needed. Montaño said the Washington assessments seek to assess the impact of Governor Jay Inslee's "Stay Home, Stay Healthy" order.
Using an online survey, Montaño and others are attempting to quickly assess behavioral, economic, social and emotional impacts and needs as a result of COVID-19. The effort is being implemented statewide and is expected to be rolled out later this month.
Submitted by Colin Poitras on June 01, 2020