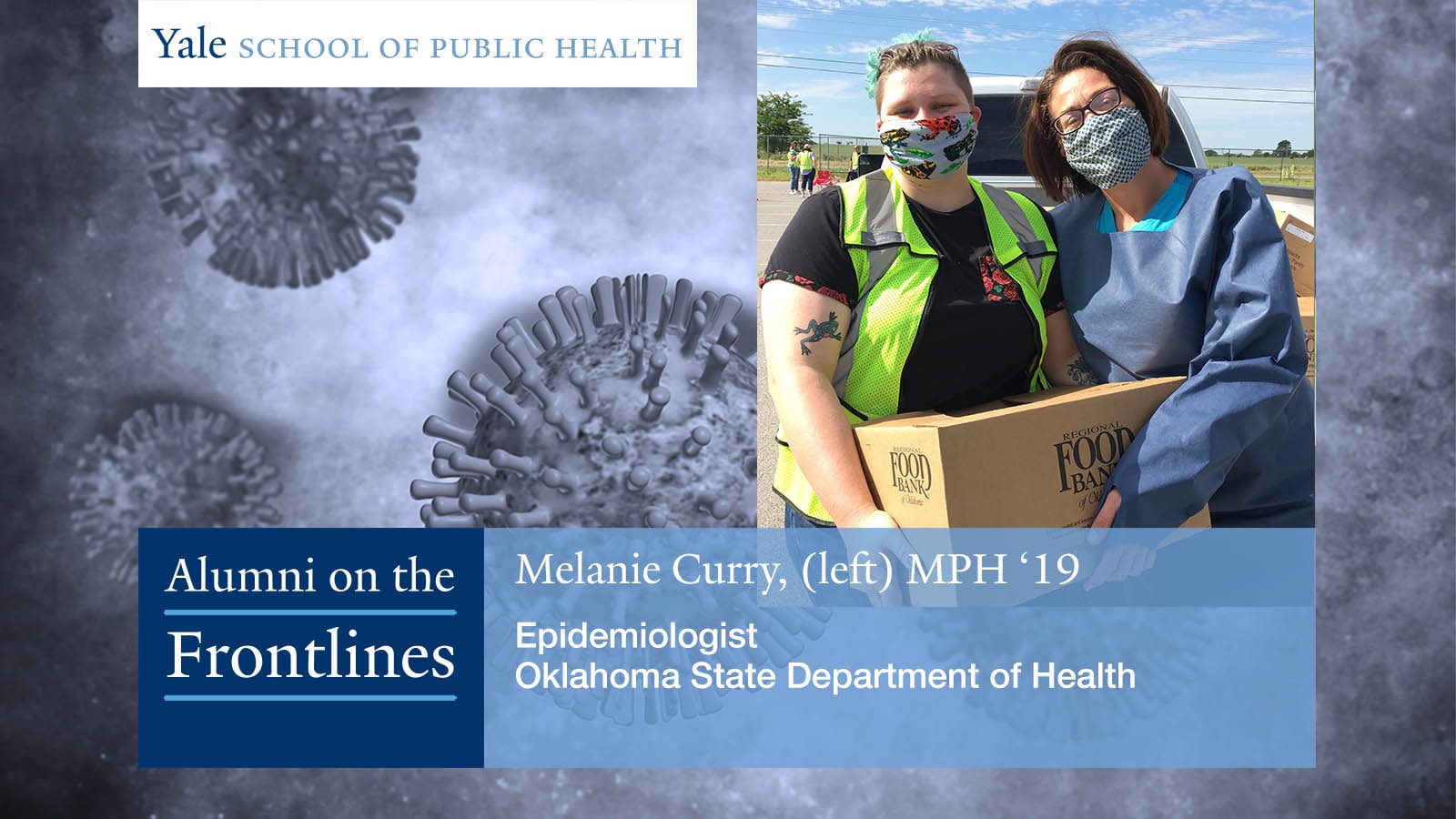 Since COVID-19 struck Southwestern Oklahoma, it has been all-hands-on-deck for public health professionals like Melanie Curry, MPH '19.
An epidemiologist for the Oklahoma State Department of Health's District 5, Curry has been working at mobile testing sites across the region, assisting nurses in performing COVID-19 testing with nasal swabs. The COVID-19 pandemic's impact isn't limited to physical health however, and Curry also spends part of her time handing out donation boxes from the regional food bank to assist individuals who may be unemployed, underemployed or otherwise struggling due to the virus outbreak.
"The entire District 5 Health Department staff has pulled together and while this is a very stressful situation, we are handling it with courage, kindness, and strength," Curry said. "I couldn't be prouder to be a part of the public health community at this time. "
As of May 11, there were approximately 4,600 confirmed cases of COVID-19 in Oklahoma, with a reported 274 deaths.
Lately, Curry is making sure citizens in District 5, which encompasses 10 counties in Southwest Oklahoma, continue to take proper precautions as the state begins lifting local restrictions and people resume their daily routines. Many restaurants, malls and other retail establishments in the area reopened on May 1.
"We're doing our best to mitigate the effects of the virus by encouraging social distancing and hand washing among the community," said Curry. "We are also reaching out to our stakeholders in health care as well as our vulnerable populations to do what we can about resource management."
As the Planning Section Chief for District 5, which is headquartered in the Comanche County Health Department, Curry is waiting to see when the number of COVID-19 infections will peak. In epidemiological terms, a "peak" marks the largest number of infections during an outbreak, after which cases slowly begin to decline.
"In order for a peak to be considered over, the number of new cases needs to decrease for four consecutive weeks," said Curry. While the entire state of Oklahoma may eventually experience a peak in COVID-19 cases, some cities or regions within the state may experience localized peaks. All of which requires close monitoring and tracking and all of which, will certainly continue to keep Melanie Curry busy.
Submitted by Colin Poitras on June 01, 2020