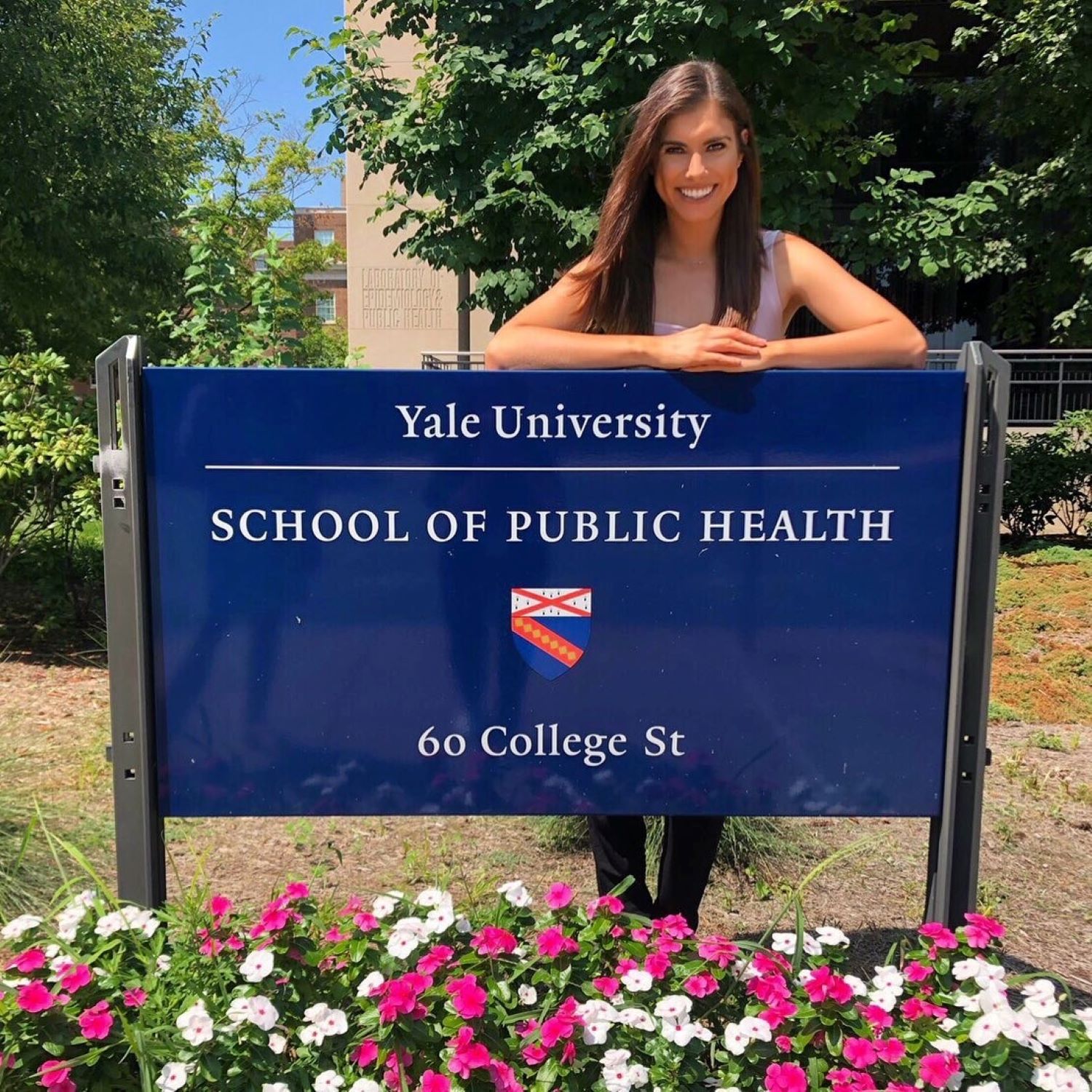 When Laurel Sharpless, M.P.H. '21, was in her first relationship as a young adult, she had no idea that her relationship with her boyfriend would result in violence perpetrated against her.
Sharpless' experience had a profound impact on her plans for the future. Sharpless dedicated herself to empowering others and developing prevention programs for individuals experiencing intimate partner violence, or IPV. A former National Football League cheerleader, Sharpless is currently pursuing a degree in Chronic Disease Epidemiology as a second-year student at the Yale School of Public Health.
"After successfully escaping, it changed me. I became very resilient, ambitious and goal-oriented," Sharpless said. "I decided to go after every dream I had because things really did mean much more to me than before."

Sharpless had dreamed of a career related to health from a young age. But her encounter with IPV threw her plans off track, even after she managed to leave the relationship, she said.

Still, she continued her push for success. An experienced competitive dancer, Sharpless initially set her sights on her long-term goal of cheerleading for the NFL, where she leveraged her dancing skills and athleticism into a professional career. While a member of the Houston Texans' cheerleading team, Sharpless accomplished another one of her goals — earning a Bachelor of Science degree at the University of Texas at Austin.

Sharpless remained interested in the intersection of IPV and health and began pursuing that aspect of her future career more rigorously. As a Medical Scribe Fellow at the Stanford University School of Medicine, she saw a gap between individuals exposed to IPV and the health care they received as a result of experiencing abuse.

"It bothered me. I wanted to be a part of the solution," Sharpless explained. After conducting a quality-improvement project and presenting her findings to her colleagues, she managed to completely revamp the way Stanford's network of primary care and gynecology clinics screen patients for IPV — all while cheerleading for the San Francisco 49ers.

"That was my first glimpse of public health," she said. "I was hooked, and I realized I could make an impact on a subject that I was very passionate about."

That passion brought Sharpless to the Yale School of Public Health. At YSPH, Sharpless is conducting research regarding IPV and HIV prevention with Professor Trace Kershaw, Ph.D., chair of the Department of Social and Behavioral Sciences, and Tiara Willie, a YSPH alumna (Ph.D. '18), now an assistant professor at Johns Hopkins Bloomberg School of Public Health. Between the tightly knit community and extensive faculty support, she said, Yale is the perfect place to realize her dreams and forge a bright future.

Sharpless also appreciates the interdisciplinary opportunities that YSPH provides. During her time at YSPH, Sharpless received the Solomon Student Fellowship in Health Law and Policy at Yale Law School.

"The fellowship inspired me to understand how we can improve the justice response to IPV and how that response relates to survivor health," she said.

These experiences led Sharpless to focus her master's thesis on examining the role of restorative justice policies (i.e., survivor centered approaches that attempt to repair harm caused by the violence) and their impact on post-traumatic stress symptomology among IPV survivors.

And after she graduates, Sharpless plans to get her Ph.D. and become an independent investigator, conducting novel research on the impact IPV has on the mental, sexual and reproductive health of women. The need and importance of this research is being highlighted during the pandemic, as the COVID-19 pandemic is keeping many individuals sequestered at home with their abusers, she said.

Her research team at the YSPH is playing a big part in investigating this crucial public health issue.

"Professors Kershaw and Willie have facilitated my growth and enriched my learning," she said. "I feel so fortunate to have them in my corner and to have their research team embedded in YSPH. They support me as an individual, they support me as a student and then they support me as a researcher as well. To just have all of that packaged up is more than I could have asked for here at YSPH."

Submitted by Ivette Aquilino on January 19, 2021