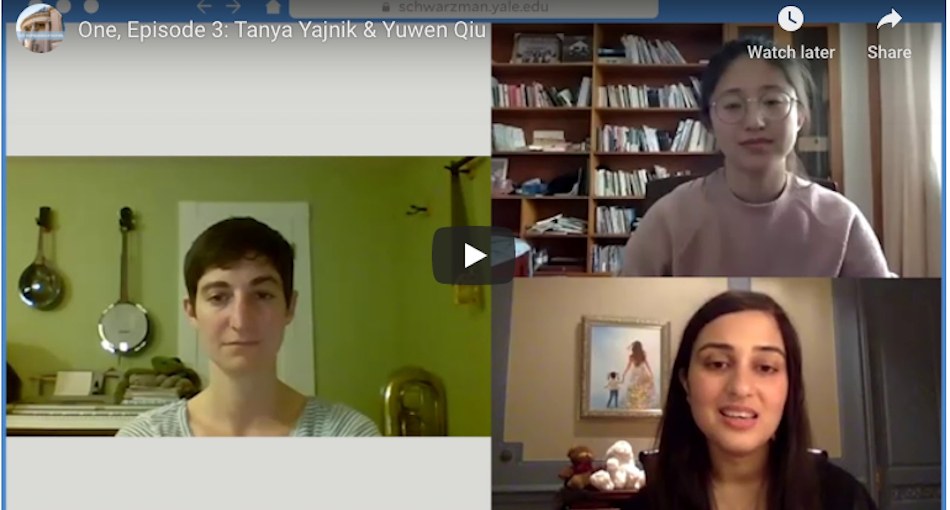 In episode #3 of the Schwarzman Center web series, One, Taiga Christie interviews Tanya Yajnik and Yuwen Qiu about their recent collaboration, Agora Good Life, an energy-focused wellness app that is set to launch this summer. Yajnik and Qiu explain how their intersecting interests in arts and public health research inspired the app's development. Yajnik, a skilled musician, concludes the segment with an aria from her spring recital that was postponed due to physical distancing.
Source: Yale News
As the director of the Yale Well Initiative and the Good Life Center (GLC), Tracy George is on the front lines with students struggling with emotional health issues. Located in Silliman College on central campus, the GLC is Yale's first student wellness center open to all students. George saw the need for a space at Yale where students could concentrate on their emotional wellness and personal happiness as they navigate challenging course loads and a host of other stresses associated with college life and young adulthood.

While she was growing up in Los Angeles, Marina Marmolejo '19 M.P.H. says the problem of homelessness seemed too big to address in a meaningful way. But when she came to New Haven to attend Yale School of Public Health and began working with local homelessness organizations, she saw an opportunity to make a difference.