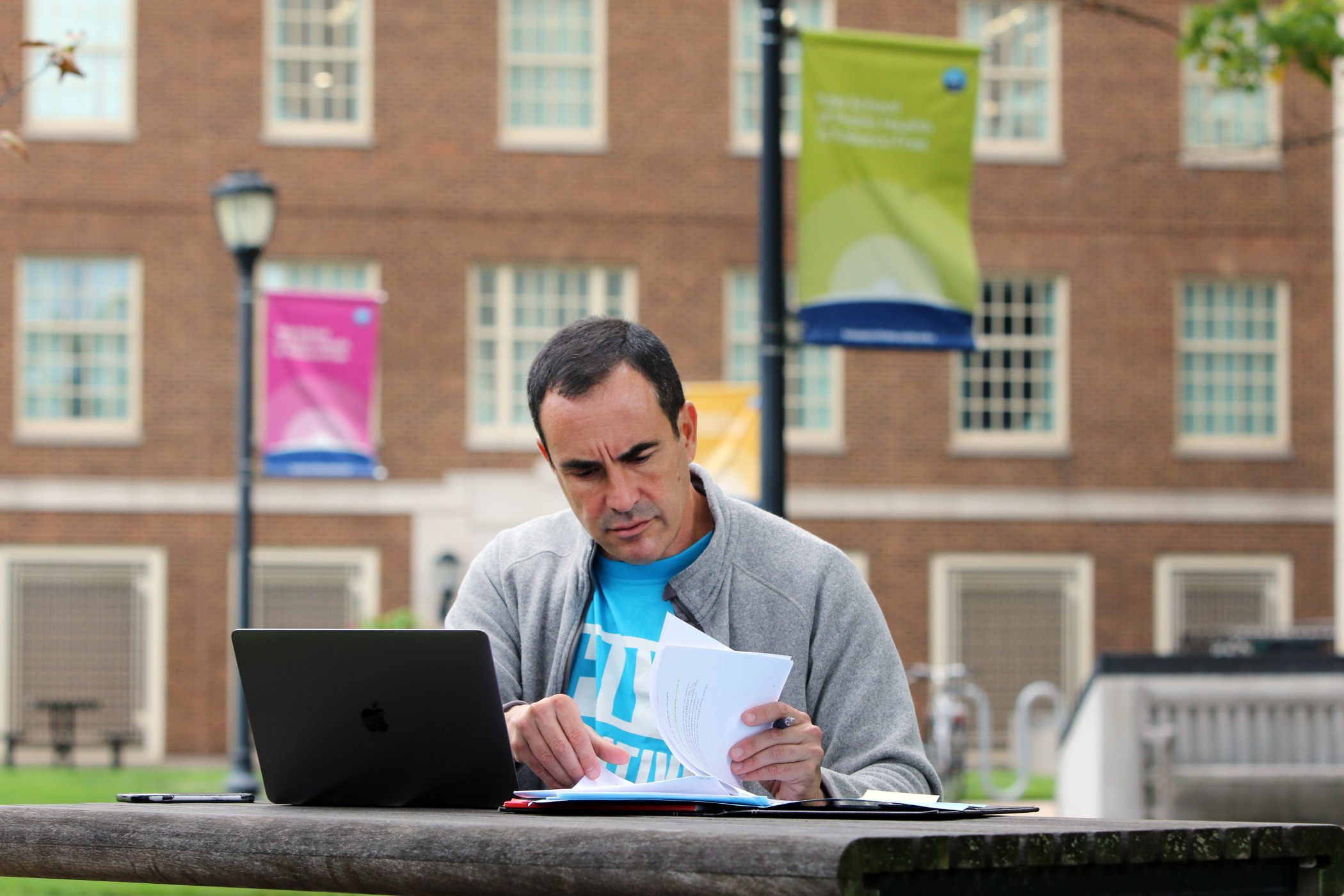 Gregg Gonsalves, Ph.D. '17, is an assistant professor at the Yale School of Public Health, associate (adjunct) professor of law and research scholar in law at Yale Law School and co-director of the Yale Global Health Justice Partnership. For more than 20 years, he has worked on HIV/AIDS and other global health issues with several organizations, including the AIDS Coalition to Unleash Power, the Treatment Action Group, Gay Men's Health Crisis, and the AIDS and Rights Alliance for Southern Africa. His research focus is on being an advocate working at the intersection of human rights and public health research and practice to address inequities in global health. Gonsalves was recently awarded The MacArthur Fellowship, a $625,000 grant for individuals who have shown exceptional creativity in their work and the promise to do more.
In a recent Washington Post interview, you mentioned that "your heart started racing, and you almost passed out," when you got the call that you had won the MacArthur Foundation prize. Now that the initial shock of the announcement has worn off, what does this acknowledgement feel like to you both personally and professionally?
GG: The shock has worn off, but not the feeling that this was a matter of luck in so many ways—there are about 2,000 people a year the foundation looks at for the fellowship—I am sure all of them were just as worthy of this honor as myself. I feel like I won the lottery. Professionally, being a junior faculty member at age 55, at the same time as you start getting those dreaded mailings from AARP (someone considers me a senior citizen!), puts me in an odd place. I am "just starting out" as an academic, but have had decades of work in the public health field. Being at a place like Yale at this time in my life has been disorienting at times, has made me second-guess whether I belong here at all, but the fellowship gave me an inkling that I may be on the right track and I can dial down the self-doubt a bit.
Do you have any short- and/or long-term goals thought through yet on how you'd like to use some of the prize money?
GG: Well, there are no strings attached to this generous gift. So my first decision is to make no rash decisions. I can sit and think about it for a while, particularly since the funding comes in quarterly increments over five years.
Since there are no restrictions on how this money can be used, what does this mean for your work in the future – does this open up doors that maybe wouldn't have been available to you through other grant or private funding?
GG: I hope that the fellowship brings attention to the work —on public health and medicine and their intersections with social justice and human rights—and makes it easier to find support for this kind of interdisciplinary work that doesn't "fit" in any one neat silo. Despite the call for more interdisciplinary work, most funders have narrower fields of vision and universities follow suit.
You have said that a university setting was the right place for your work, why is that?
GG: I want to bridge the divide between the academic sphere and where I came from—the world of front-line service providers and activists. I spent so much time outside of the university, but now is the time to be here, to do what only places like Yale can support: formulate and answer complex questions, apply rigorous analysis to vexing problems without the pressures of day-to-day activist work.
How do you feel your work has been and will continue to be affected by the current political environment?
GG: Public health and social justice are inextricably connected—while the biological has a lot to do with sickness and disease, we all know, it's the social, economic and political determinants that often decide whether we live or die, get sick or get the chance to get well. The current political environment is a public health catastrophe and is hazardous to our health—from the efforts to kill the Affordable Care Act, to enshrine work requirement in Medicaid, and the efforts to roll back environmental protection. We see an increase in hate crimes and violence that will have long-term effects on all our health. Instead of building to a better future, we are in defense mode and trying to ameliorate the damage.

In 40 years, what would be one of the best things you could look back on in your career and be proud that you helped make it happen?
GG: My proudest achievements are those I've done with others, my work and time with ACT UP, with the Treatment Action Campaign in South Africa, and now with my colleagues here at Yale School of Public Health: all of it has been devoted to making people's lives better, particularly people who those in power consider "disposable:" people who use drugs, LGBTQ people, sex workers, the poor. It's hard to pick out a single thing. Right now, I am trying to focus on the intersection between the opioid, HIV and HCV epidemics—these three interlocking epidemics form a syndemic, and are further linked to epidemics of incarceration, poverty in the United States. If I can make even the smallest difference on these issues, I'll be happy at 95.
Watch a video about Gonsalves' award.
Submitted by Elisabeth Reitman on November 14, 2018