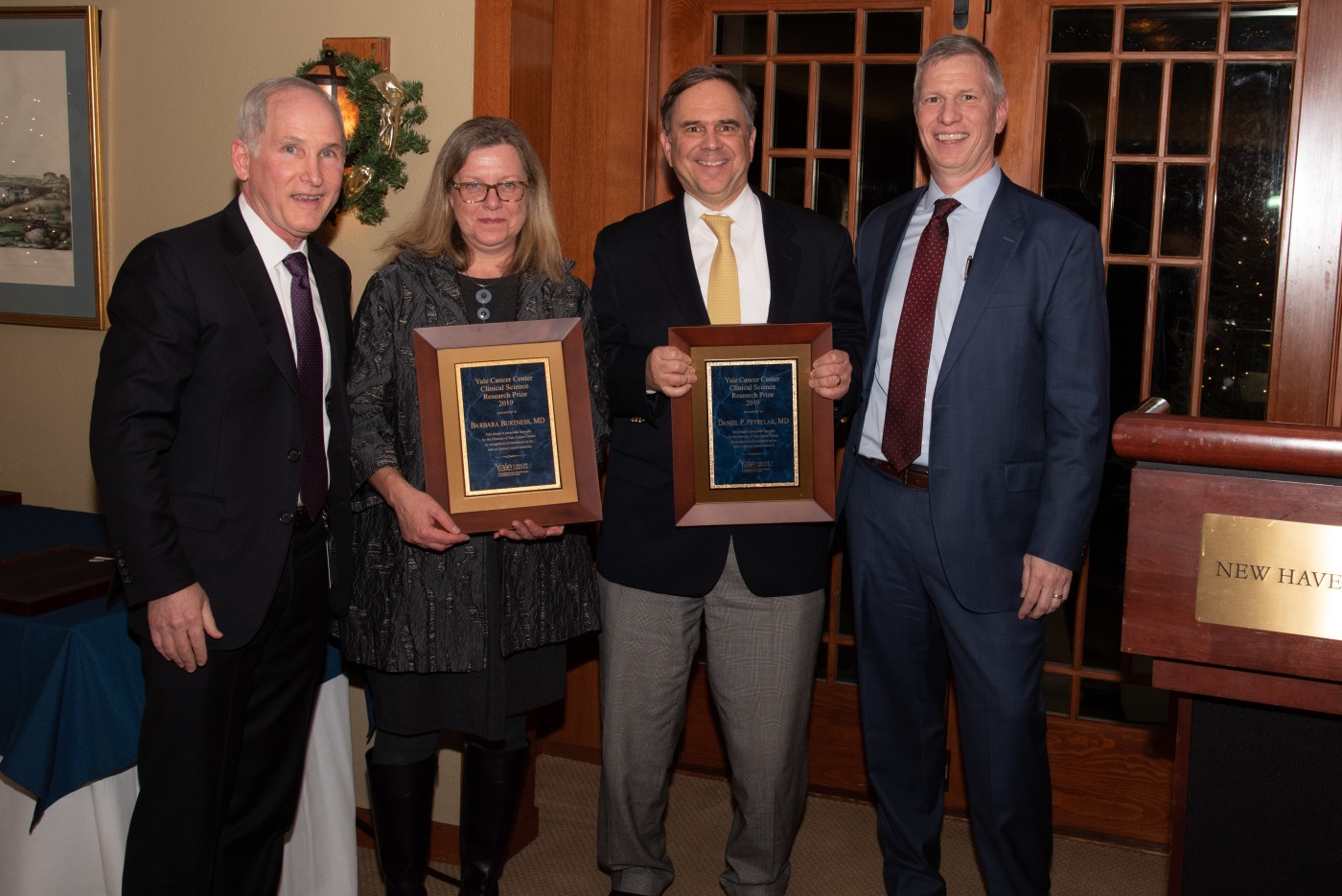 Yale Cancer Center (YCC) held its annual Conclave and award ceremony at the New Haven Country Club on Monday, January 13. The night celebrated the accomplishments of goals set for 2019 and honored faculty and staff with clinical and research prizes. Nominations were reviewed by senior leadership and selected in recognition of their outstanding contribution to cancer care and research.  
The 2019 YCC Conclave Research Prize awardees are:  
Barbara Burtness, M.D., and Daniel Petrylak, M.D., were each presented with the YCC Clinical Science Research Award.  
Burtness is a Professor of Medicine (Medical Oncology), Leader of the Disease Aligned Research Team for Smilow    Cancer Hospital at Yale New Haven's Head & Neck Cancers Program and Co-Leader of the Developmental Therapeutics Research Program at YCC. She received her award in recognition of her study published in The Lancet titled, "Pembrolizumab alone or with chemotherapy versus cetuximab with chemotherapy for recurrent or metastatic squamous cell carcinoma of the head and neck (KEYNOTE-048): a randomized, open-label, phase 3 study."   
Petrylak is a Professor of Medicine (Medical Oncology) and of Urology and Co-Leader of the Cancer Signaling Networks Research Program at YCC. He received his prize for his study published in the Journal of Clinical Oncology titled, "Pivotal Trial of Enfortumab Vedotin in Urothelial Carcinoma After Platinum and Anti-Programmed Death 1/Programmed Death Ligand 1 Therapy."  
Sidi Chen, Ph.D., was honored with the YCC Basic Science Research Award. Chen is an Assistant Professor in the Department of Genetics and Systems Biology Institute at Yale's West Campus, a member of YCC's Genomics, Genetics, and Epigenetics Research Program, and the Yale Stem Cell Center. Chen was honored for his work published in three journals, including a study published in Nature Methods titled "One-step generation of modular CAR-T cells with AAV–Cpf1."

Lieping Chen, M.D., Ph.D., was presented with the YCC Translational Research Prize. Chen is the United Technologies Corporation Professor in Cancer Research, a Professor of Immunobiology, of Dermatology and of Medicine (Medical Oncology), and Co-Leader for the Cancer Immunology Resesarch Program at YCC. He received the award for his work published in the journal Nature Medicine titled, "Siglec-15 as an immune suppressor and potential target for normalization cancer immunotherapy."

Linda Niccolai, Ph.D., was honored with the YCC Population Science Research Prize. Niccolai is a Professor in the Department of Epidemiology (Microbial Diseases), the Director of Development Core at the Center for Interdisciplinary Research on AIDS, the Director of the HPV Working Group, and Co-Director of the Connecticut Emerging Infections Program at Yale. She was honored for her publication in the journal Vaccine titled, "Missed Opportunities for HPV Vaccination Among Vaccine-Eligible Women with High Grade Cervical Lesions."  
A full list of past Conclave awardees is online at https://www.yalecancercenter.org/research/excellence/awards/conclave/
Submitted by Anne Doerr on January 22, 2020