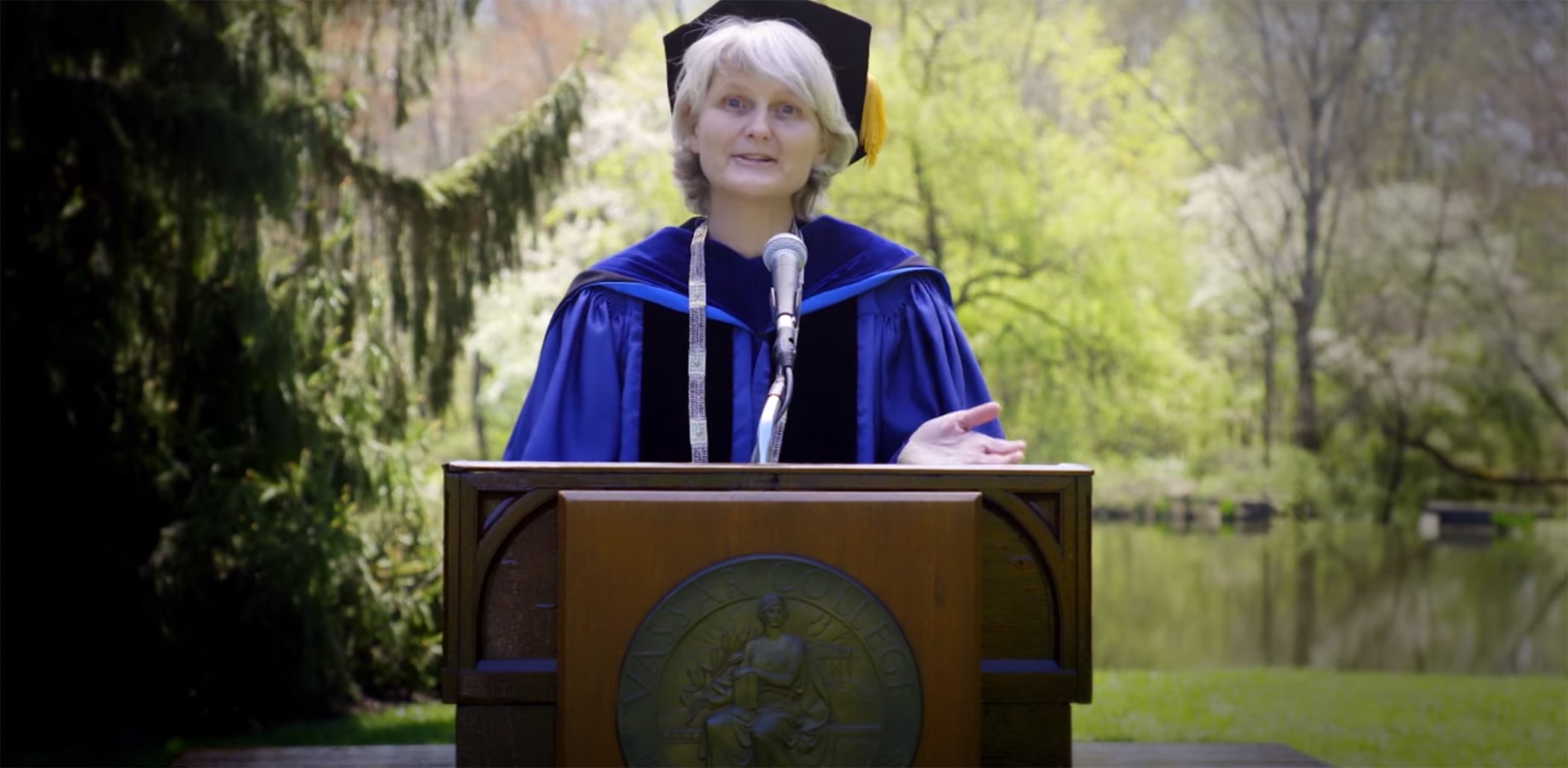 Yale School of Public Health graduates facing the daunting prospect of starting new careers in the midst of a devastating global pandemic, were reminded Monday that theirs is a noble mission and the time has come for them to transform their newfound knowledge into action.
"COVID-19 is the defining public health crisis of our era and you have studied to do the work most needed now to help the world heal, learn and move forward," Dean Sten H. Vermund told the Class of 2020 during a commencement address, which, like almost all others, was delivered virtually to students around the world.
Vermund said the 207 graduates receiving master of public health degrees are "uniquely equipped" to enter the public health workforce and there are "countless opportunities for you to alter the future for the better."
In her keynote address, Vassar College President Elizabeth (Betsy) Bradley urged students to not just engage but to lead in their various public health interests such as epidemiology, chronic disease, public health policy and environmental health.
"You may not fashion yourself to be a leader but you have leadership in you because, like my colleagues around the world, with this public health degree you have taken a step to say there is unnecessary suffering and disease and I will do something about it," Bradley said.
A 1996 Yale School of Public Health graduate, (PhD, Health Policy and Health Economics), Bradley served as an administrator at Massachusetts General Hospital before returning to lead the YSPH Health Management Program. During her time at the university, she directed the Brady-Johnson Program in Grand Strategy at Yale, an interdisciplinary university-wide initiative providing leadership training for undergraduates. She also served as head of Branford College.
Known for her international work strengthening health systems in China, the United Kingdom, Egypt, Ethiopia, Liberia and South Africa, Bradley founded the Yale Global Health Leadership Institute. She became the 11th president of Vassar in 2017.
Watch the Yale School of Public Health's virtual 2020 commencement here.
Effective leadership was a cornerstone of Bradley's commencement address. With ongoing concerns about climate change, future pandemics, and human encroachment of natural habitats, Bradley said the need for strong, impactful public health leadership continues to be great.
"Given our shared field of leadership and public health, no matter what your role is in it, you are called to lead," Bradley said. "You have chosen to pursue one of the most important fields of our time."
Recognizing 2019 as the 50th anniversary of the matriculation of women in Yale College and the 150th anniversary of the first women students at the university, Bradley recounted how women around the world have demonstrated outstanding leadership in public health.
"Many women have seen suffering and disease in their communities and have concluded they could no longer accept things as they were," said Bradley.
She cited health workers in Ethiopia and Rwanda, who would no longer accept women dying for what should be routine child birth; women in rural China who believed hospital infections could be reduced through better hygiene; and women in Ghana who pushed for a national mental health policy by refusing to accept a lack of treatment and stigma for people living with mental illness.
Graduate Helen Moore, MPH in Health Policy, helped set the tone of the day by praising her fellow students for consistently advocating for marginalized communities and pushing for change even in the face of opposition.
Quoting fictional Professor Albus Dumbledore from J.K. Rowling's Harry Potter stories, Moore said, "It is our choices that show who we truly are, far more than our abilities."
During her time at Yale, Moore worked on state legislative efforts to expand health services for undocumented children. As a Yale President's Public Service Fellow, she worked with neighborhood housing services, where she advocated for nondiscriminatory zoning policies.
"I chose to get my MPH in health policy because I want to improve the lives of others," said Moore. "Public health is inherently social justice. My classmates have demonstrated this time and time again advocating for a core curriculum that incorporates these values throughout."
Moore spoke fondly of her days at YSPH and the special bonds she made at a school that prides itself on the close connections between students and faculty.
"Now that my journey to an MPH is ending, I can say with certainty that I made the right decision," Moore said. "My time at Yale has been filled with professors who will call you just to see how you are doing, friends who will stay up late with you on campus drinking wine and lots and lots of free food."
Also recognized Monday were 20 students with a public health concentration who are receiving master of science degrees from the Yale Graduate School of Arts and Sciences this year as well as six students receiving doctor of philosophy degrees.
At the start of the virtual ceremony, Huaqi Li, MPH in Chronic Disease Epidemiology, was honored as student marshal and Josemari Feliciano, MPH in Biostatistics, as banner bearer. Li was noted for her public health modeling and clinical oncology research as well as her recent work conducting contact tracing for COVID-19 in Connecticut. Feliciano was noted for his role as 2019-2020 president of the Student Association of Yale School of Public Health (SAYPH), his work with Dr. Elizabeth Claus and the Giloma Registry at Yale and his research into the role of social media in influencing social behavior in localized contexts.
Leslie Curry, professor of public health (health policy), professor of management, associate director of the patient centered outcomes research training program (Yale-CORE), lecturer at Yale College and associate director of the Yale Scholars in Implementation Science Training Program, served as faculty marshal
2020 STUDENT AWARDS
Student Award for Outstanding Contributions in Diversity, Equity, and Inclusion: Helen Moore and Bethelehem (Bethe) Teshome.
(This award recognizes up to two distinguished individuals in the graduating class for their impactful dedication to improving the livelihood and well-being of diverse communities.)
Dean's Prize for Outstanding M.P.H. Thesis: Ryan Sutherland
Thesis title: "Tobacco Use, Knowledge of Tobacco Risks, and Perception of Smoking Behaviors Among Urban and Rural Youth in South Sulawesi, Indonesia"
Wilbur G. Downs, M.D., M.P.H. Outstanding Thesis Prize in International Health: Shannon Han
Thesis title: "Marketing of (BMS): Content analysis of breast milk substitutes digital marketing on Chinese e-commerce platforms"
Henry J. (Sam) Chauncey Jr. Inspiration Award: Tal Gurevich
The Henry J. (Sam) Chauncey Jr. Inspiration Award was established in recognition of Mr. Sam Chauncey, who developed our program in Health Management. This award from alumni of the Health Care Management Program is given to a student who exemplifies Mr. Chauncey's ideals of innovation, integrity, leadership, and community service.
Lowell Levin Award for Excellence in Global Health: Shadrack Frimpong
The Lowell Levin Prize is awarded annually to a graduating student whose work addresses health promotion and global health.
Teaching Fellow Award: Alexandra (Lexi) Edmundson
The Teaching Fellow Award recognizes a YSPH student who demonstrates outstanding performance as a Teaching Fellow and promise as a future teacher.
2020 FACULTY HONORS
Distinguished Teaching Award: Dr. Marney White
Distinguished Student Mentor: Dr. Nathan (Nate) Grubaugh
Team Research Award: Dr. Albert Ko and colleagues
Investigator Research Award: Drs. Hongyu Zhao and Zack Cooper
Early Career Investigator Award: Dr. Nathan (Nate) Grubaug
Submitted by Sayuri Gavaskar on May 18, 2020